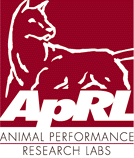 THE WORLD'S BEST NUTRITION IS NO LONGER JUST FOR PROFESSIONAL ATHLETES !


IS YOUR DOG "PEAKED"?

Animal Performance Research Labs - South Africa are the Sole Distributor for the Entire "Peak" Canine Nutrition Line in Southern Africa.



When it comes to canine nutrition supplements, performance & health, Animal Performance Research Labs is the unchallenged leader! The goal of APRL is simple - to raise your dogs health & performance to new levels. Canine Athletes, Working Dogs, Joint Support, Puppies, Coat and Seniors.

Our approach to canine nutrition is different, and we think better than the pet industry.

First, we use human edible-grade ingredients, selected from the most respected suppliers around the world.

When we say "HUMAN GRADE", we mean it.....You can eat our products yourself!

Next, we produce in ultra-clean and modern manufacturing facilities where human products are made.